Symptoms of Whiplash After a Long Island Car Crash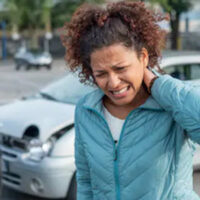 Whiplash injuries are common injuries as a result of a car crash. Which makes sense, because when a car or truck stops or turns violently and unexpectedly, an individual's spine, neck, and head can be twisted in an unusual way. The level of damage depends on the situation, some whiplash injuries as a result of a New York car crash heal with rest and recovery time at home. In more serious cases, medical intervention is required.
After a collision in Bayside or Brooklyn, have your health assessed whether you are experiencing symptoms or not, whiplash symptoms can be slow to appear. Then, talk to a Long Island personal injury lawyer about compensation options.
Headaches, Pain, Numbness, and Tingling
Some feel the effects of a whiplash injury in the moments immediately following a crash, but others do not experience them until days or weeks later. The important thing is to have your health assessed as soon as possible following a collision so a treatment plan can be developed, one that will provide you with the best results. Some of the symptoms of whiplash include the following.
Pain in neck, back, and shoulder
Headaches, memory issues, and confusion
Motion range loss, weakness, and fatigue
Numbness or tingling
If the injury is minor, it is possible your doctor will advise you to treat your whiplash symptoms with rest combined with icing the injured area. There are also times when physical therapy is beneficial. Severe injuries can require injections, surgery, and medications.
Being clear with your healthcare provider is important for a variety of reasons. For one, it is helpful for your doctor to know about any pre-existing injuries or prior health issues that need to be taken into account. Also, letting your doctor know the injury was a result of a collision can help them in assisting you on a path to healing and will connect the injury to the accident should a personal injury claim or lawsuit move forward in the future.
When hospital stays or ongoing physical therapy appointments are necessary for an individual's recovery, there can be high expenses connected to a New York car accident. You can have your Long Island personal injury lawyer focus on financial recovery while you pay attention to following your treatment plan.
Recovery Timelines and Treatments
There is a range of severity possible with whiplash injuries. More severe injuries will take longer to heal, often when nerve damage is present. Additional injuries can also exacerbate healing timelines. Following your doctor's guidance is essential.
Do you find yourself unable to return to your life as it was prior to a collision because of a whiplash injury? You need a personal injury lawyer working for you. Together, we can assess your expenses and develop a strategy to secure your best compensation option. With over 30 years of legal experience, our legal team represents clients throughout Long Island and the five boroughs of New York City. Don't delay, contact Giuffré Law Offices at 516-802-9912 to discuss your case today.