Distracted Driving a Leading Contributor to Motor Vehicle Collisions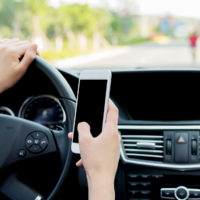 The CDC reports that distracted driving contributes to almost one in five motor vehicle collisions and is a leading cause of pedestrian deaths. Over 50% of teenage drivers reported texting and emailing while driving, one of the main factors contributing to distracting driving accidents on Long Island. Though most drivers will deny being distracted when the accident occurred, the experienced investigators at Giuffré Law Offices can uncover evidence of driver distraction immediately before vehicle impact.
Types of Distractions Resulting in Motor Vehicle Collisions
Distraction increases the likelihood of road accidents and comes in three distinct forms –cognitive, visual, and manual. Cognitive distraction includes common behaviors such as daydreaming, worrying about work, or talking on Bluetooth. These behaviors take your mind off driving and often occur when drivers have longer commutes into the city. Visual distraction involves any activity that takes your eyes off the road, including reading or even witnessing another accident. Lastly, manual distraction occurs when the driver takes his hands off the wheel. Common examples include eating or texting.
Obtaining Evidence of Driver Distraction After a Crash
Knowledgeable car accident attorneys frequently demand detailed cell phone records, police reports, black box data, and photographs of the vehicle's interior immediately following the crash. This allows your legal team to search for evidence that the driver engaged in one or more of the following activities before the collisions:
Texting, emailing, or checking social media
Using a GPS
Eating and drinking
Reaching into another area of the vehicle
Changing clothes, including removing outerwear
Doing makeup
Reading
Engaging with passengers
Smoking
If you suspect the liable driver was distracted, it is essential to contact an attorney as soon as possible to preserve evidence. Retained law firms can send letters to insurers demanding that they save all digital and vehicle evidence to support your claims. Waiting to contact legal counsel could result in destroyed cell phone records, lost video evidence, and missing vehicle data.
Determining Liability after Distracted Driving Accidents on Long Island
New York statutes and local case law require drivers to pay attention to the road and, as lawyers commonly state, "see that which there was to be seen." Vehicle owners and distracted drivers are liable for any damage caused by their inattention, but insurers often deny that their drivers violated the law. At this stage, claimants should retain an experienced car crash lawyer who can gather evidence of liability. This includes showing that the driver violated New York's cell phone use (NY VTL § 1225C & 1225D) and steering wheel control laws (NY VTL § 1126). Proving that the distraction contributed to the accident can accelerate liability determinations and result in quicker financial settlements.
Connect with an Experienced Motor Vehicle Accident Attorney at Giuffré Law Offices
We focus on holding distracted drivers liable for passenger and pedestrian injuries on Long Island. As such, the dedicated personal injury team at Giuffré Law Offices knows what to look for after suspected texting-while-driving crashes. Schedule a free, no-obligation consultation with Giuffré Law Offices today by calling 516-802-9912 or connecting with us online.