Long Island Personal Watercraft Accidents and Injuries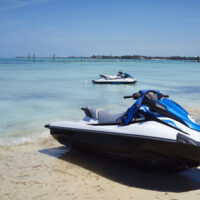 Many who live on Long Island enjoy beaches and water activities. For some, this means participating in water sports and boating. While these activities can be fun, there are times when injuries occur. Personal water vehicles are smaller than boats, this means swift turns which can result in crashes.
After a personal watercraft accident, connect with a Long Island personal injury lawyer. Similarly to how motorcycle operators can be injured more severely than cars who are shielded by the frame of the vehicle, personal watercraft accidents can lead to major health issues. A legal professional can assess your situation and advocate for your rights.
Situations that Can Result in Personal Watercraft Accidents
Just like car accidents can occur for a variety of reasons, boat and personal watercraft accidents also happen in a range of circumstances. All motor vehicles carry some risk, and this is true of personal watercraft vehicles as well. There are many types and they each have their own brand names, including Jet Ski, WaveRunner, or Sea-Doo, but all carry some level of risks to owners, passengers, and operators.
Ways personal watercraft accidents could occur:
Explosion, fire, or other blast
Collisions with other vessels, docks, or debris
Individuals in the water are struck
An inexperienced operator
Grounding of the vehicle on a sandbar
Machine is tipped over or capsized
Loss of control when speeding
There are laws in place when it comes to personal watercraft vehicles. In many situations they are classified as motorboats and follow the same laws. Of course, they do have unique qualities. Claims are not always handled the same as claims involving boats.
Defects Are Also Possible
There are times when machines have defects. For example, an accident could result from a defective throttle on a personal watercraft. In these and other circumstances, liability may fall on the manufacturer. Of course, there could be a combination of reasons for an accident, including a manufacturing defect and reckless behavior on the part of the operator. Personal injury claims can be complex.
For some, part of the joy in operating a personal watercraft vehicle is trying out stunts and jumps, but these can be hazardous to others swimming in the area or for the operators themselves, who could fall off the vessel. There have even been instances of personal watercraft vehicles colliding with buildings and piers. Drowning fatalities and severe injuries are possible when water vessels are not operated responsibly.
If you were injured on a Jet Ski, WaveRunner, or Sea-Doo, or were hurt when another was operating a personal watercraft, discuss your situation with a Long Island personal injury lawyer.
Are you recovering from a personal watercraft injury? You need a personal injury lawyer working for you. Together, we can assess your expenses and develop a strategy to secure your best compensation option. With over 30 years of legal experience, our legal team represents clients throughout Long Island and the five boroughs of New York City. Don't delay, contact Giuffré Law Offices at 516-802-9912 to discuss your case today.