Long Island Slip-and-Fall Accidents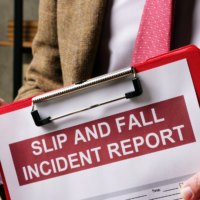 Falling accidents, such as slip and falls, are the leading cause of broken hips and traumatic brain injuries in the United States. In fact, the CDC estimates that 1 in 5 falls result in serious injuries such as fractures, brain trauma, or spinal cord damage. Many slip and falls occur in commercial areas, such as grocery stores and schools, because their smooth floors often have a low coefficient of friction ("COF"). These surfaces, combined with clear liquids, such as water from rainstorms, increase the likelihood of sudden slipping injuries on Long Island.
The slip-and-fall team at Giuffré Law Offices understands that even seemingly minor falls can result in lifetime medical complications and financial losses. Discuss your rights with our experienced Long Island slip, trip, and fall attorneys today by calling 516-802-9912 or contacting us online.
Common Negligent Conduct Resulting in Slipping Injuries
In Nassau and Suffolk Counties, slip-and-fall accidents are covered by a legal principle called premises liability. This doctrine holds that property owners must keep the premises reasonably safe for lawful guests, including customers, houseguests, and those permitted on public properties. Keeping the premises safe includes periodically inspecting the property for hazards, such as spills and debris, warning patrons of the danger, and quickly blocking/removing the slipping hazard. Failing to do so may result in liability for negligence, which applies to most viable slip-and-fall claims on Long Island.
The most common factors contributing to slipping accidents and serious injuries include the following:
Polished floors and stairs with a low COF
Lack of railings, handholds, mats, and runners in dangerous areas
Wet and icy conditions
Leaking commercial refrigerators and freezers
Soft or liquid debris
Low or damaged areas where water pools
Uneven surfaces, pavement, or steps
Many Long Island slip-and-fall incidents occur in parking lots with unmitigated black ice and buildings serving or selling food products. In both cases, an experienced premises liability lawyer might demand damages directly from the property insurer and company responsible for property maintenance.
Apportioning Liability for Slip-and-Fall Claims in New York 
Property owners and liable insurers frequently blame the victim after falling accidents. They often argue that the claimant should have seen and avoided the hazard. They might even blame your shoes and overall health. We know how to push back against victim shaming at Giuffré Law Offices. Even if the claimant was rushing to the subway and could have seen the hazard, New York has a pure comparative fault system (NY CPL § 1411). This means injured claimants might still recover significant damages even if the court deems them partially at fault for the accident.
Confidentially Discuss your Slip-and-Fall Claim with Our Dedicated Personal Injury Team
Do not let negligent property owners, including state and local entities, blame you after a devastating fall. Even seemingly minor hazards can cause permanent disabilities and emotional trauma. You might be entitled to substantial insurance compensation following a Long Island slipping accident. Connect with our dedicated slip-and-fall lawyers today for a free, no-obligation consultation. We might even take your case without charging any upfront fees or costs. Call us today at 516-802-9912 or contact us online.