NY U-Turn Accidents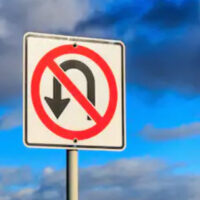 If you have driven in Long Island, chances are you have seen a driver make an illegal U-turn. People drive erratically and make illegal turns all the time, on Long Island and throughout the country. But anytime an illegal turn is made, an accident could result.
A U-turn is when a driver moves their vehicle 180 degrees, essentially moving their car in the opposite direction. Because the turn is in the shape of the letter U, it is commonly referred to as a U-turn. When turns happen unexpectedly, it can be difficult for other drivers to react in time to avoid collisions. If you were struck by a car making a U-turn, talk to a Long Island car accident lawyer about your options for damage recovery.
Confusion and Ignoring Signage
Sometimes, U-turns are a legal option. There could be signage that indicates safe locations to make a U-turn, for example. But when it is not expected, others who are sharing the road with you may find the turn surprising. Pedestrians and other cars may be ill prepared to respond to the turn, resulting in an accident.
Also, there are times when individuals attempt to complete a U-turn on a narrow street. Then, instead of a U-turn, it becomes a three-point turn which could block traffic. If another person does not notice the three-point turn happening, collisions could result.
An Attorney Can Help to Determine Liability
Physical car damage and serious injuries are possible after a car collision, whether the crash was because of a U-turning driver or other circumstances. People can have facial injuries from airbags deploying or burns from hot fluids. There are also examples of loose cargo shifting in the event of a crash, injuring a driver or their passengers. With so many types of injuries, seeking a doctor as soon as possible following a collision is always advised. Medical attention is needed for a smooth recovery and to have documentation of the injury being a result of the crash.
Then, discuss your situation with a Long Island car accident lawyer. An experienced attorney will assess the circumstances and determine who was at fault. A legal professional can take care of insurance negotiations for you, and they have knowledge of what forms of documentation are needed to strengthen your claim or case.
A car accident can result in high expenses. If you talk to a lawyer before discussing your accident with an insurance company, you can avoid low ball offers. An attorney can advocate for you each step of the way, working toward securing a maximum settlement amount.
Are you recovering from an injury because of a reckless driver making an illegal U-turn? You need a personal injury lawyer working for you. Together, we can assess your expenses and develop a strategy to secure your best compensation option. With over 30 years of legal experience, our legal team represents clients throughout Long Island and the five boroughs of New York City. Don't delay, contact Giuffré Law Offices at 516-802-9912 to discuss your case today.