Remember to Stop at Stop Signs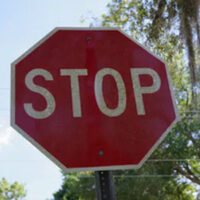 It is clear to everyone that cars are supposed to stop at stop signs. The same is true for motorcycles, trucks, and bicycles. But, despite knowing this to be true, many have a bad habit of not stopping at stop signs, rather they slow down but roll through. It is dangerous to not stop. Moving past a stop sign could result in accidents. Injuries to pedestrians, passengers, and drivers are possible.
If you were in an accident because someone failed to stop at a stop sign, you may be eligible for compensation for injuries and property damage. If your collision occurred in New York, a Long Island car accident lawyer can help you to understand your rights and options.
Some Poor Habits Are Also Illegal
In New York, running a stop carries penalties. After all, a person who drives through a stop sign is putting others in danger. For a first offense, it is possible to receive a $150 fine for rolling through a stop sign. Fines increase with violation tickets that follow the first offense. If enough are accumulated, your license could be suspended as a result of your illegal behavior.
Accident claims can be complex when everyone involved is claiming they did not do anything to prompt the accident. But, there are paths forward when another's negligence resulted in property damage and personal injury. A Long Island car accident lawyer has the skills and experience needed to secure a maximum settlement amount.
Reasons Individuals Drive Through Stop Signs
Accidents happen for a variety of reasons, and this is true for crashes resulting from a failure to stop. Some of the possible reasons could be one or all of the following.
Drivers not paying attention. Some accidents happen because vehicle operators are simply not paying attention to the road.
Misunderstanding of right-of-way rules. When two or move drivers believe they have the right to move forward, there can be collisions.
Obstructions make it difficult to see signs. When there is a large visual obstruction in front of signs, trees or trucks for example, signs may not be seen and therefore not followed.
Bad weather. Weather can make travel more dangerous, if there is rain causing hydroplaning or sun glare blinding drivers, for instance.
It is essential everyone sharing New York streets and highways follow traffic signs and laws. Failing to follow rules carries consequences and pain and suffering can follow. When on the roadways, obey laws and fully stop at every stop sign to keep yourself and others safe when driving in Brooklyn, Stewart Manor, or Bayside,
Were you injured when a driver rolled through a stop sign? You need a Long Island personal injury lawyer working for you. Coping with medical fees and lost income can be difficult. Together, we can assess your situation and develop a strategy. With over 30 years of legal experience, our team represents clients throughout Long Island and the five boroughs of New York City. Don't delay, contact Giuffré Law Offices at 516-802-9912 to discuss your case today.