Physical Distractions Can Lead to Long Island Accidents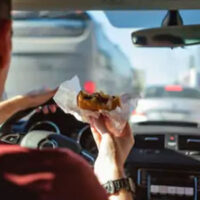 When the term distracted driving comes up, it is common to think of cellphones and digital devices. And it makes sense, because many are distracted by phone calls, alerts, texts, and social media engagement, but devices are not the only reason that distracted driving occurs. For example, there have been collisions in Brooklyn, Stewart Manor, and Bayside because of a person being physically distracted while driving.
Driving safely requires attention and focus. When a person's attention is pulled away from the task of driving, accidents and injuries are possible. If you were in a Long Island car accident, talk to a Long Island car accident lawyer about what strategy could strengthen your claim or personal injury lawsuit.
Physical Distraction Can Come In a Variety of Forms
When a person moves their body out of the proper driving position or takes their hands off the wheel of the vehicle, they may be physically distracted. Physical distractions and mental distractions, which pulls a person's thoughts away from the task of driving, can lead to collisions.
Some of the circumstances that lead to a driver being physically or mentally distracted:
Unwrapping food items or drinking beverages and eating food.
Searching for an item in the car, possibly a phone or notebook, and feeling around on the passenger seat, back seats, or the floor of the vehicle.
Applying eye makeup, lipstick or other cosmetics, even using the rearview mirror of the car to do so.
Talking with others in the car and twisting to make eye contact as you tell a story or using your hands to gesture while discussing an issue.
Focusing on the dashboard controls, adjusting heat settings or changing the time on the clock.
Being emotionally distracted by a podcast or lost in your own thoughts because of a recent life event.
Being interested in a sign or something occurring on the side of the road and turning your body to look at the situation or sign.
Twisting to talk to kids in the backseat.
Interest in another vehicle or in an accident on the shoulder of the road.
In order to perform a job well, focus is required. An individual may believe they are able to safely and efficiently multitask, but driving requires attention. Because many drive daily, they falsely believe they can do so without focusing on the road. This false sense of security can lead a person to believe it is no big deal if they unwrap a sandwich or reprogram their car radio. Bur, in reality, participating in these physical distractions can lead to car accidents.
Talk to a Long Island Attorney
Were you injured because of a driver who was physically distracted when behind the wheel? You need a personal injury lawyer working for you. Together, we can assess your expenses and develop a strategy to secure your best compensation option. With over 30 years of legal experience, our legal team represents clients throughout Long Island and the five boroughs of New York City. Don't delay, contact Giuffré Law Offices at 516-802-9912 to discuss your case today.