Steps to a Long Island Slip and Fall Claim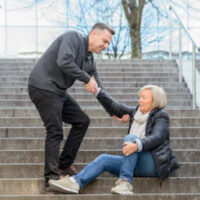 There are times when people trip, slip, or fall. After all, we are all human and accidents can happen. But if you fell because another was negligent, a person or an entity, and you were injured, it is possible a personal injury claim or lawsuit will be needed in order to secure damage recovery.
With local and federal law complexities and distinct timelines to follow, it is helpful to have a Long Island personal injury lawyer on your side. Strengthening a claim is possible when evidence is secured.
Filing a Complaint and the Discovery Phase
If you decide to move forward with a dispute, your lawyer will notify the claim defendant. Within the notification, all of the pertinent information will be clearly stated. It could include one or all of the following facts.
The names of the individuals involved in the injurious accident
Why the slip, trip, or fall occurred
What injuries were sustained as a result of the accident
Who was at fault and the amount of the damage request
The discovery phase is the period of time when evidence and proof is gathered. Interrogatories may be part of this process. There may also be expert assessments and witness accounts that are gathered.
It is the plaintiff's responsibility to prove they were injured because of the accident in a slip and fall case. This means there may be a plethora of documents collected to solidify proof. Discovery phase timeframes vary depending on the complexity of the accident. Sometimes this phase can be complete in months, in other situations the process can extend into another calendar year.
Mediation May Be an Option
For some, mediation is an option which means a case can be settled without going to court. A mediator will negotiate with the lawyers of each party. If an agreement can be reached, the mediation process can save time and money. Then, a judge could preside over a final settlement discussion, if necessary.
Of course, there are times when the sides are too far apart and a settlement cannot be reached. A trial may be the best option for these situations. There could even be pre-trial motions, such as the defendant claiming the case is not substantial and it should be dismissed.
If you were injured in a Brooklyn, Stewart Manor, or Bayside slip and fall accident, connect with a Long Island personal injury lawyer. An experienced attorney can support your claim through the entire process, from filings to settlements. If an insurance settlement does not provide enough relief, your lawyer can take a case to trail, too.
Did you find yourself hospitalized after a slip and fall injury on a Long Island property? You need a personal injury lawyer working for you. Together, we can assess your expenses and develop a strategy to secure your best compensation option. With over 30 years of legal experience, our legal team represents clients throughout Long Island and the five boroughs of New York City. Don't delay, contact Giuffré Law Offices at 516-802-9912 to discuss your case today.