Where Do Long Island Slip And Fall Accidents Occur?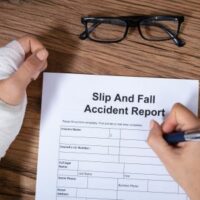 Wondering if you have a right to compensation after a slip and fall injury is common. These surprising events can upend the life of an individual and their family, because when you are walking around a store or heading into a restaurant you are not ready for dangerous situations, you are simply going about your day-to-day life.
Public property managers and owners have a responsibility to maintain safe spaces. If a hazard was known but not repaired, for example, the person or party could be deemed negligent. Slip and fall cases can be complex, proving fault is not always easy. To strategize a path to a full settlement package, connect with an experienced Long Island personal injury lawyer.
Accidents Can Happen in a Variety of Places
While accidents and injuries can happen anywhere, there are places where slip and fall events are more likely.
Sidewalks and parking lots

:

Broken walkways and cracks in pavement can contribute to a person falling down and hurting themselves.
Restaurants and bars

:

Spilled liquids and walkways that have hazards, such as overcrowded furniture can result in trips and injuries.
Shopping centers

:

Displays that are not designed properly and spills can lead to a person falling.
Apartment and condo buildings

:

There needs to be appropriate lighting and safety features in common spaces to help prevent accidents.
Stairs, escalators, and elevators

:

When people are moving from one floor to another, there is the possibility of slipping on stairways or being injured when there is a mechanical issue with elevators or escalators.
Of course, when a property owner or manager is immediately made aware of an issue, they may not be able to do a complete repair in the following minutes or hours. But they can post signage that lets the public know of the danger. Failing to take any action could lead to them being held liable.
Another will likely be negligent if they knew about a risk and did not repair it, if they caused the hazard, or if it is a danger they should have known about if they were acting responsibly. For example, if an area was poorly lit and had been for months, it is not reasonable for the property owner to simply say they didn't know about the lack of light. Their job is to keep the property maintained.
If a public space or business in Brooklyn, Bayside, or Stewart Manor was not well-maintained and you or someone you care about were injured as a result, connect with a Long Island personal injury lawyer.
Were you injured because of a fall in a public space that was not maintained properly? You need a personal injury lawyer working for you to determine a path forward. Together, we can assess your expenses and develop a strategy to secure your best compensation option. With over 30 years of legal experience, our legal team represents clients throughout Long Island and the five boroughs of New York City. Don't delay, contact Giuffré Law Offices at 516-802-9912 to discuss your case today.