Long Island Bad Faith Insurance Claims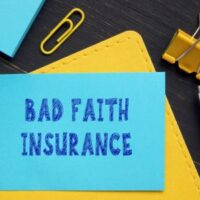 As a New York car owner, you are familiar with the importance of paying your auto insurance. Carrying coverage is a legal requirement, you won't be able to register your car or truck in the state of New York without proof of coverage. But you don't secure coverage only because it is required, you also do so to be sure you are protected in the event of an accident.
If you were in a collision and an insurance company is now denying your claim, connect with a skilled Long Island personal injury lawyer to discuss options for moving forward. When an insurance company is not acting in a reasonable way, there are legal ways to be sure the terms of a policy you have paid for are upheld.
Denial or Reduction of Payment Can Have a Wide-Reaching Impact
When a person is depending on a payment from an insurance policy, the financial and emotional impact of being denied can be extensive. After all, when you look over your policy options and choose the one that fits the needs of you and your family, you are counting on that coverage in the event of a car or truck accident.
The term bad faith could be applicable if an insurance company is reacting to your need for compensation in any of the following ways.
Extremely low offers

:

An offer needs to be fair. It should not be designed solely to the advantage of the insurance company.
Delaying payment

:

Once an amount is decided on, the company needs to process the settlement in a timely manner.
Reinterpreting policy language

:

Language stated in a policy can't be altered or adjusted when a customer moves to use the policy.
Claim denial

:

In order for a claim to be denied, there needs to be a justifiable reason.
Unexpected policy cancelation

:

A policy can't be voided simply because an individual moves to use their coverage.
When bad faith behavior can be proven, there may even be a path to punitive damages. These are possible because courts often want to discourage companies from ever participating in bad faith activities again.
There Are Many Interlinking Parts to Bad Faith Claims
Pursuing a bad faith claim after you were treated improperly following an accident in Brooklyn, Bayside, or Stewart Manor is not always simple. Bad faith claims can be confusing, but an experienced Long Island personal injury lawyer has the skills you need to pursue your original settlement news and punitive damages, when possible.
Can't believe how you are being treated now that you need support from your auto insurance following a car crash? You need a personal injury lawyer working for you to determine a path forward. Together, we can assess your expenses and develop a strategy to secure your best compensation option. With over 30 years of legal experience, our legal team represents clients throughout Long Island and the five boroughs of New York City. Don't delay, contact Giuffré Law Offices at 516-802-9912 to discuss your case today.