NY Accidents And Economic And Non-Economic Damages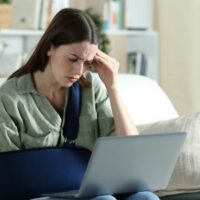 There are times when it is appropriate to file a personal injury claim to pay for bills connected to accident injuries. This is particularly true when another person or entity was negligent. Your injury could have been the result of a car collision or an injury that occurred at your place of work. Whatever your situation, accident damages will likely be separated into two categories, economic damages and non-economic damages, the total amount would be your damage recovery amount.
If you are unsure if you are eligible for economic damages, non-economic damages, or both, discuss the details of your situation with a Long Island personal injury lawyer. A seasoned attorney can look over your documents, listen to your story, and determine what level of compensation could be possible.
Tangible Damages are Typically Economic Damages
Damages that are verifiable and measurable are typically economic. This includes bills which can be easily tallied, such as hospital fees, out-of-pocket medical expenses, and other items that carry a financial trail. Some examples include the following.
Income loss and a reduction in future earning potential that can be documented
Receipts from support items and mobility aids such as crutches, canes, and wheelchairs
Doctor bills, specialist treatments, and hospital care
Emergency room visit expenses or urgent care bills
Drug costs, including over the counter items and prescriptions
Documented costs for future medical treatments
For any future expenses, documentation from an expert source will be needed. Someone that has experienced evaluating medical conditions and the future expenses required for those conditions.
Also, a financial expert could help in calculating current and future wage loss. There are times when a person is no longer able to continue on their career path due to an accident injury. Or, their hours have to be reduced from full time to part time. If the injury will also mean no future promotions, meaning no wage increase and a loss of increased benefits, that could be part of a wage loss calculation.
Non-Economic of Non-Monetary Damage
Non-economic damages are the ones that are more subjective in nature but are still eligible for compensation in certain circumstances. This could include a reduction in a person's quality of life, emotional distress, and pain and suffering.
It is common for New York personal injury claims to contain both economic and non-economic damages. For example, a family may be seeking a monetary award to cover both hospital bills for a physical injury and the mental health impact that has made it impossible for them to enjoy life as they did prior to the accident. This is one example among many. Discuss your damage recovery with a Long Island personal injury lawyer to learn more.
Are you unsure if your damages are economic or non-economic following a NY accident? You need a personal injury lawyer working for you. Together, we can assess your expenses and develop a strategy to secure your best compensation option. With over 30 years of legal experience, our legal team represents clients throughout Long Island and the five boroughs of New York City. Don't delay, contact Giuffré Law Offices at 516-802-9912 to discuss your case today.