New York Rideshares And Accident Injuries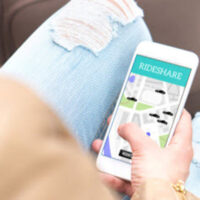 Ridesharing quickly transitioned from a novel form of transportation to a go-to choice for errands, social outings, and commuting. Services such as Lyft and Uber are convenient choices for many, but there are times when the vehicles are involved in accidents and injuries are sustained. Whether your injuries result from riding in a rideshare vehicle or if the car you were driving was struck by a Lyft or Uber driver, compensation could be possible.
Unfortunately, being injured in a ridesharing accident does happen, and if you were involved and injured, you may benefit from legal representation. Long Island personal injury lawyers have experience handling accident cases, including lawsuits and negotiations with insurance companies.
Insurance Coverage Could Be Complicated with Ridesharing Accidents
There are many reasons why rideshare vehicles are involved in accidents. A driver could be distracted by the rideshare app or may be unusually tired because they are staying on the road for long periods of time in an effort to produce more income.
When an accident happens, which insurance company will payout depends on the situation. Drivers who drive for Lyft, Uber, and other rideshare services are required to have their own auto insurance. Also, the company is insured. Which insurance will handle a claim depends on the details of the situation?
There are also no-fault laws to consider. If you did not suffer a serious injury, the best path forward might be to recover expenses from your own insurance policy. State law has definitions for minor and serious injuries in place. An experienced Long Island personal injury lawyer can assess your situation and strategize what steps would lead to an appropriate resolution for you and your family.
Steps to Take After a Rideshare Accident in New York
There are some steps you can take to protect yourself from low-ball offers. If you are involved in an accident with a rideshare vehicle, keep the following tips in mind. Also, be sure to have your injuries assessed by a medical professional as soon as possible.
Ask for the names and contact information of all drivers, including the Lyft or Uber drivers.
Collect the appropriate insurance information.
If there are witnesses, ask them for their phone numbers so your lawyer can collect an official statement later.
Take notes and/or take photos of the types of vehicles, their license plate numbers, and license plate numbers.
Document physical injuries.
Negotiating with insurance companies can be complicated. If it is necessary to secure a claim from multiple companies, documentation can smooth the process.
Were you injured when taking an Uber or Lyft in New York? You need a personal injury lawyer working for you to determine a path forward. Together, we can assess your expenses and develop a strategy to secure your best compensation option. With over 30 years of legal experience, our legal team represents clients throughout Long Island and the five boroughs of New York City. Don't delay, contact Giuffré Law Offices at 516-802-9912 to discuss your case today.