Compensation For Auto Crash Disc Injuries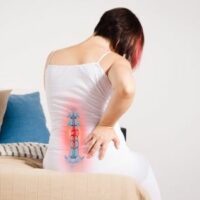 When a car crash happens, spinal disc damage is possible. An individual spine is 23 discs; vertebrae are in place so the discs are supported and cushioned appropriately. When there is a traumatic event, such as an auto accident, one or more discs can be displaced.
Bulging, herniated, and torn discs can be incredibly painful. If you have an injury in which a portion of a disc is pressing against spinal nerves, suffering can be severe. After sustaining a disc injury in a car crash in Brooklyn, Bayside, or Stewart Manor, you will likely require a settlement to pay for medical bills and reduce the financial pain caused by taking time off of work to heal. Discuss your situation with a Long Island personal injury lawyer to learn about your compensation options.
Ongoing Pain and General Weakness
For a spine to work efficiently, every part needs to be healthy. When there are issues with vertebrae or discs, it can make it difficult or impossible for a person to bend and move. A doctor may diagnose you with a herniated or ruptured disc, terms that are connected to harm to the cushioning discs of the spine.
Common in your lower back, disc injuries can lead to back and leg pain. Neck pain could be an indicator of disc damage higher up on the spine. Disc injuries can lead to any or all of the following:
General weakness: Disc damage can result in you being unable to grasp or hold objects; others find they stumble when trying to walk.
Ongoing pain: Depending on where the harm is, sufferers can experience pain in the feet, buttocks, legs, back, and neck.
Numbness and tingling: Nerve damage often happens alongside disc injuries, leading to numbness and a tingling, prickly sensation.
A doctor needs to determine exactly where the injury is and develop a treatment plan. The medical documentation from doctor visits and physical therapy appointments could be the evidence you need to secure a full and fair settlement.
A Lawyer Has the Experience to Know if Financial Compensation is Possible
Car accidents injuries happen in single-vehicle events and pileups involving multiple cars. Discuss the details of your accident with a Long Island personal injury lawyer. When disc damage causes pain and suffering, high expenses, and wage loss, damage recovery is needed for an accident victim and their family to heal. When you have a legal professional working for you, a higher compensation amount may be secured.
Is someone you love recovering from a ruptured or slipped disc due to a New York car accident? You need a personal injury lawyer working for you to determine a path forward. Together, we can assess your expenses and develop a strategy to secure your best compensation option. With over 30 years of legal experience, our legal team represents clients throughout Long Island and the five boroughs of New York City. Don't delay, contact Giuffré Law Offices at 516-802-9912 to discuss your case today.