Injuries Due To Low Impact Collisions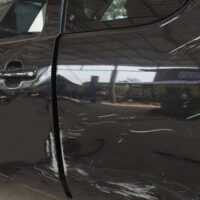 Even when a car crash happens at low speeds, physical injuries can happen. Low-impact accidents do not mean everyone walks away unharmed. If your body turns unnaturally, for example, you may be diagnosed with a whiplash injury.
Many consider a low-impact collision to be when a vehicle hits another car or object while moving under 15 miles per hour. Sometimes low-impact crashes are also referred to as fender benders. That said, some insurance companies use the term low-impact collision in connection with the cost of a collision. So, if the damage is less than five thousand dollars it is a low-impact event, for example. But even when a vehicle is not totaled, physical injuries are possible. If you have medical expenses connected to a low-impact collision, talk to a Long Island personal injury lawyer about your best path forward.
Parking Spaces and Weather Conditions
Low-impact collisions happen for a variety of reasons. Sometimes it's because a driver isn't paying attention, other times outside forces play a role. The following are just a handful of reasons crashes have happened at low speeds.
A car hits the car in front of them because traffic is stopping and starting
Backing out of a parking spot or garage one vehicle strikes another
Bad weather or a slippery spill lead to a car hitting a pole or parked vehicle
Traffic signals are ignored or the driver is distracted
Small wrecks can lead to big injuries. After all, cars and trucks weigh a tremendous amount and can create a lot of force, even when they are moving at a slower speed. Whiplash, spinal damage, and disc injuries are all possible at low speeds. These types of injuries can lead to long-lasting pain and possible income loss.
Connect with a Skilled Lawyer for Help
Just as there are a lot of different types of car crashes, there are many different injuries that can happen as a result of a collision. Some heal quickly with rest and care, others involve hospital stays and long, painful recoveries. If you are facing ongoing medical fees, physical therapy expenses, and a variety of medications, it is essential to secure a full and fair compensation package. Contact a Long Island personal injury lawyer to strengthen your claim.
Life changes are possible after a collision. Victims may be unable to return to the daily life they enjoyed before an injurious event. For example, a spine injury or disc damage can make mobility difficult or impossible. You need legal representation to secure high compensation amounts after a low-speed collision.
Are you suffering after a low-impact crash? Connect with an experienced legal team to fight for your rights. Together, we can assess your expenses and develop a strategy to secure your best compensation option. With over 30 years of legal experience, our legal team represents clients throughout Long Island and the five boroughs of New York City. Don't delay, contact Giuffré Law Offices at 516-802-9912 to discuss your case today.