How To File A New York Personal Injury Claim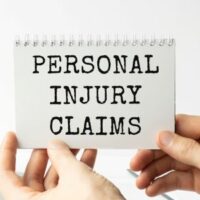 If you were injured in a New York accident, in Brooklyn, Stewart Manor, Bayside, or anywhere in the Long Island area, you may need to file a personal injury claim in order to recover financially. When there are extensive bills to pay, a personal injury claim could hold the entity or person responsible for the damage accountable.
When you have never been through the personal injury claim process, it can be hard to know how to get started. It is important you connect with a professional who can inform you of your options. Complex claims can lead to confusion and low settlement offers. Talk to a Long Island personal injury lawyer to fully understand your legal rights.
Have All Injuries Assessed by a Healthcare Provider
After any accident injury, whether the person was hurt in a car accident, a workplace incident, or a slip and fall event, they should seek medical care as soon as possible. It is common for people to think an injury will heal on its own or for them to dismiss an ache or pain as a minor nuisance. In reality, major health issues occur due to accidents. Having a health assessment is needed both to fortify your claim and to get you on a proper path to treatment.
Strengthening a claim is possible with an up-to-date medical record because it is documentation of the injury happening as a direct result of the accident. Medical records can help to stop insurance adjusters from reducing or denying claims.
Other Helpful Types of Information and Documentation
Once you connect with a New York lawyer, they can negotiate with the insurance companies. It is possible they will be able to secure a full and fair settlement quickly if you have a lot of solid documentation. If more information is needed, your attorney can guide you through the process of gathering the needed information, which could include some or all of the following.
Hospital records
Doctor notes or evaluations
Future estimates from medical professionals
Lost income records
Property damage estimates
In the majority of situations going to court is not necessary, but when a lawsuit does move forward your lawyer can walk you through the litigation process. There is the possibility that more information will be gathered, such as depositions or testimonies.
Then, different types of court decisions can be weighed. For example, a bench trial is a situation where the final verdict is decided by a judge not a jury. If a jury trial is needed, a jury will determine if the defendant was negligent and what damage amount is required to right the situation.
Are you thinking about filing a Long Island personal injury claim? You need a personal injury lawyer working for you. Together, we can assess your expenses and develop a strategy to secure your best compensation option. With over 30 years of legal experience, our legal team represents clients throughout Long Island and the five boroughs of New York City. Don't delay, contact Giuffré Law Offices at 516-802-9912 to discuss your case today.