Harm Could Lead To A Product Liability Claim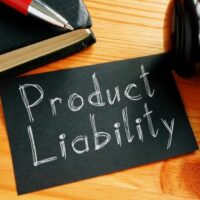 Defective products can lead to a product liability claim. Just as there are oodles of products, there are many situations that could lead to damage recovery. For instance, if you were in an accident and were injured because an airbag didn't deploy, it may be possible to secure a financial settlement from the airbag manufacturer to pay for your medical bills.
If you or someone you care about is recovering from an injury that occurred due to a product defect, discuss your situation with a Long Island defective product lawyer.
Manufacturers, Assembly Teams, and Retailers
One of the first steps toward a settlement is determining why the injury occurred and who was at fault. Negligence needs to be proven so damage recovery can be pursued. Then, your attorney will share with you what type of product liability claim is an option for you, strict liability or breach of warranty. Strict liability is a claim that is moving forward because the product itself is defective. Breach of warranty is in connection to using the product for its intended use and being injured.
Determining negligence is part of the process. Analyzing work environments and protocols could be necessary. The following areas could be investigated.
Company design of the product
Manufacturers of the individual parts that make up the product
Assembly facility and the process each team used to assemble each unit
Companies responsible for packaging and shipping
Work process of the wholesaler and retailer
There is an array of issues that could lead to a product injury. If a product was inadequately tested, a problem could have been overlooked or not taken seriously, for example.
When Many Experience the Issue, a Class Action Lawsuit Could Follow
When many people have been injured because of a product defect, a class action suit may be possible. In those situations, a group of victims pursues a large compensation package from a corporation. That settlement is then distributed.
Essentially, a class action lawsuit is when a group of injured people suing a negligent person or party together. Uniting as a group has a few advantages. It means legal expenses will not overwhelm one or two individuals and the issue often gains a higher profile. Higher settlement amounts are often possible in class action suits.
The companies that design, manufacture, and distribute products have a responsibility to provide safe products to the public. And if there are any safety concerns, an appropriate warning must be in place. Talk to a Long Island defective product lawyer about your options for financial compensation.
Are you recovering from a product defect illness or injury? Product liability cases can be complicated. You need a lawyer working for you to determine a path forward. Together, we can assess your expenses and develop a strategy to secure your best compensation option. With over 30 years of legal experience, our legal team represents clients throughout Long Island and the five boroughs of New York City. Don't delay, contact Giuffré Law Offices at 516-802-9912 to discuss your case today.