Crashes Are Possible When Pets Are Loose In Vehicle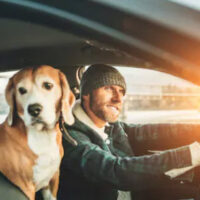 A top reason for car accidents is distracted driving. But when people think of a distracted driver, they typically imagine a person operating a vehicle while texting or looking for a purse or bag in the car. In reality, distracted driving can happen in a wide range of ways, including being distracted because there is an animal in the car.
Unrestrained pets can be distracting in a variety of ways. They could be chewing on an armrest and upsetting the driver or jump on a driver's lap unexpectedly. Accidents due to distracted drivers can result in large medical expenses, lost wages, and the need to fix or replace a vehicle. After a New York vehicular crash, due to a loose pet or other hazard, talk to a Long Island personal injury lawyer about your options for damage recovery.
Distractions Caused by Animals in a Vehicle
While animal lovers enjoy their cats, dogs, and other pets, animals create risks when they are in a car or truck. For example, if a dog is not restrained, they can behave in unexpected ways leading to crashes.
Examples of how a driver could react dangerously to an unrestrained animal:
Taking hands off the wheel to hold or grab the pet
Reaching toward the passenger seat or into the back seat to interact with animals
Driving with an animal on a lap and having the animal lick face or move abruptly
Feeding or petting animals while moving
Snapping pictures of a pet
When animals are moving around a vehicle freely, it can lead to injuries to the humans in the car or the animals themselves.
While New York laws regarding distracted driving do not specifically point to the need to restrain pets, it is important to make decisions to keep yourself, your passengers, and your animals safe when driving in Brooklyn, Bayside, Stewart Manor, or anywhere on Long Island. There are plenty of examples of appropriate restraints saving the lives of humans, dogs, and other animals involved in New York car crashes.
Pets Can Be Injured in Collisions
Pets are often beloved members of the family and enjoying the unconditional love of a pet can enhance your life and improve your health. Studies have shown pets can reduce stress and alleviate loneliness. Take steps to keep yourself and pets safe when traveling.
If you are involved in a collision and you and your pet are injured, there could be a path to damage recovery. A financial award would cover your individual medical bills and any veterinary expenses you have incurred due to the crash. Talk to a Long Island personal injury lawyer to learn more.
Were you injured because another New York driver had a pet loose in their vehicle? You need a personal injury lawyer working for you to determine a path forward. Together, we can assess your expenses and develop a strategy to secure your best compensation option. With over 30 years of legal experience, our legal team represents clients throughout Long Island and the five boroughs of New York City. Don't delay, contact Giuffré Law Offices at 516-802-9912 to discuss your case today.