Commercial Trucking Companies May Be Liable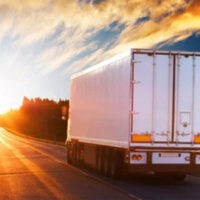 In order for roads to be safe, everyone needs to be following traffic rules. This means all drivers, whether they are in cars or trucks, should maintain safe vehicles, do not drink and drive, obey traffic rules, and not participate in reckless behavior. And when it comes to operators of commercial trucks, the dangers of risks are elevated as they are in control of immense amounts of weight. A loaded tractor-trailer could weigh up to or more than 80,000 pounds. Tragic results are possible when large trucks are involved in car accidents.
Trucking companies have a responsibility to maintain professional histories of their operators, according to the Federal Motor Carrier Safety Regulations. If an operator does not have the right amount of experience or a history of unsafe driving, it is inappropriate for a trucking company to send that driver out on a route.
If you believe an unsafe truck operator is responsible for your New York car accident, legal action may be possible. This is also true if another type of negligence on the part of a trucking company prompted a wreck that resulted in healthcare expenses. Talk to a Long Island personal injury lawyer to learn more.
Commercial Truck Accidents and Safety Inspections
There are a variety of reasons why accidents happen, including when they happen involving commercial trucks. Sometimes, wrecks are possible when there have not been proper safety inspections.
If truck cargo is not secured properly and falls when a truck is on the road, a shift in weight creates dangers.
Cargo that falls onto roadways also creates accident risks.
Maintenance checks are required to be sure breaks are functioning correctly and any issues are addressed.
Tires need to be checked to ensure there is proper tread and tires are inflated to the appropriate level.
When the machinery of a truck is not functioning correctly, there are real risks to everyone one the road. It is the responsibility of a trucking company to hire operators who are trustworthy and to maintain a fleet of vehicles that is safe on roads and highways.
Connect with a New York Truck Accident Attorney
Trucking companies could hold some of the responsibility for an accident that was prompted by negligent hiring practices or safety issues. Doctor bills and lost income can make it difficult to recover from a crash, and the lawyers who work for a trucking company can fight against personal injury claims.
It is important to remember you have rights, whether you were in a car crash with a small passenger vehicle or a commercial truck. A Long Island personal injury lawyer can assess your situation today.
Did you sustain an injury because of a semi-truck accident? You need a personal injury lawyer working for you. Together, we can assess your expenses and develop a strategy to secure your best compensation option. With over 30 years of legal experience, our legal team represents clients throughout Long Island and the five boroughs of New York City. Don't delay, contact Giuffré Law Offices at 516-802-9912 to discuss your case today.
Resource:
fmcsa.dot.gov/regulations/title49/section/391.51