Car Accident Injuries Could Include Fractures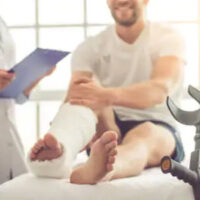 Broken bones or fractures as a result of a car accident can be incredibly painful and may require long recovery times. While nobody wants to cope with a broken bone, the reality is individuals experience this type of injury every day. One study reports the average person will experience a bone break at some point during the course of their life.
How a fracture will heal depends on the severity of the injury. Some broken bones require physical therapy, for example. If you are recovering from a New York car accident, talk to a Long Island personal injury lawyer about your damage recovery options.
Different Types of Fractures Require Different Treatments
There is no bone that is completely free of the possibility of a fracture, but there are bones in your body that are prone to car crash breaks. For instance, car accident victims commonly experience leg, arm, wrist, hip, ribs, and facial fractures. There is also the possibility of back and neck breaks when a car is impacted from the front or rear.
Any injury needs to be assessed and treated as soon as possible. Bone health is essential, bones support your muscles and protect your organs. Depending on the type of bone break, your doctor will develop a treatment plan.
Compound fracture: Skin is broken due to bone break, infections are possible
Comminuted fracture: A break into two or more pieces
Incomplete fracture: Also referred to as a buckle fracture, an incomplete fracture is a rupture or bend, not a full break.
Transverse fracture: A straight line bone break
Once your injury is assessed, your health care team could recommend surgery. Or, they may suggest a cast followed by physical therapy. Because treatment plans vary, the expenses vary as well. For example, hospital stays and multiple surgeries can lead to incredibly high medical fees. Financial compensation is typically needed for a family to cope with ongoing medical bills. Connect with a Long Island personal injury lawyer to secure the level of compensation you need.
Bone Breaks from Car and Motorcycle Accidents
Vehicular accidents are incredibly dangerous events. During a car collision, metal can crush and individuals can be thrown from the car or against a hard surface, resulting in fractures. It is even possible safety features, such as restraints and airbags will result in bone breaks. And when a motorcyclist is in an accident, there is no surrounding structure to protect them.
Fractures could occur from slip and fall accidents as well. If you sustained a fracture due to a slip and fall event, car accident, or motorcycle crash in Brooklyn, Stewart Manor, or Bayside, connect with a legal professional.
Are you suffering from a bone break injury? You need a personal injury lawyer working for you. Together, we can assess your expenses and develop a strategy to secure your best compensation option. With over 30 years of legal experience, our legal team represents clients throughout Long Island and the five boroughs of New York City. Don't delay, contact Giuffré Law Offices at 516-802-9912 to discuss your case today.