Burn Injuries As A Result Of A Car Accident Fire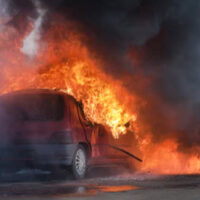 There are many ways for a fire to start when vehicles are involved in a car accident. There can be hot metal, steam, chemical fires, electrical malfunctions, mechanics combusting, and more. In some instances vehicle maintenance could help to avoid a fire, but not always. A few years ago, it was estimated that there were over 200,000 vehicle fires in America each year, causing injuries, property damage, and fatalities.
Vehicular fires are extremely dangerous events. If you were injured in a car accident in Brooklyn, Stewart Manor, or Bayside, talk to a Long Island personal injury lawyer about compensation options. Healthcare fees can be extremely expensive following a burn injury. Severe burn injuries can result in the need for years and years of medical support.
An experienced car accident lawyer can help with event reconstruction and medical expert assessments, to determine how an accident occurred and why a victim deserves a substantial settlement award.
Chemicals, Flames, and Hot Surfaces
Car collisions that happen at high speeds can be traumatic, violent events. When one or more of the vehicles involved in the wreck leak hot fluids or chemicals, burn injuries are possible. The following situations are some of the instances in which burn injuries are possible.
Flames from gasoline ignition
Scald injuries from hot metals or liquids
Burning chemicals, such as an individual coming into contact with antifreeze and steering fluid
Electrical burns and the risks of hit power poles and lines
Hot surfaces, from radiators to exhaust pipes
The extent of a burn injury depends on a range of factors. Some injuries are minor and others result in life-long health issues and disfigurement. When large medical expenses are connected to a car accident, a damage settlement could be possible.
Treatment Plans and Medical Interventions
Treatment plans for car accident burns depend on the extent of the injury. If your burns are minor, your doctor may cleanse the wound, wrap it so it is protected from infection, and send you home to heal. For minor burns, the timeframe for healing may be within a few weeks to a month.
But medical intervention and long treatment plans are possible when burns are serious. Surgery and physical therapy may be needed. It is possible skin grafts will be necessary and, in some instances, plastic surgery is required. Extensive medical treatments can result in years of healing. When ongoing care is necessary, the car accident victim may be no longer able to work and has a loss of life enjoyment. A Long Island personal injury lawyer can secure compensation for losses.
Did you sustain severe burn injuries in a NY car wreck? You need a personal injury lawyer working for you. Together, we can assess your expenses and develop a strategy to secure your best compensation option. With over 30 years of legal experience, our legal team represents clients throughout Long Island and the five boroughs of New York City. Don't delay, contact Giuffré Law Offices at 516-802-9912 to discuss your case today.