Aggressive Drivers And Road Rage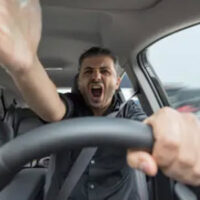 If you regularly drive a car or truck around the New York area, you have probably found yourself feeling frustrated behind the wheel from time to time. There are many reasons why drivers get angry. It can happen if a driver is late to work and the car in front of them is driving at a slow speed or if a person believes they were cut off unfairly. As high as emotions can be, it is essential for drivers to stay calm.
According to one report, over half of car accidents that result in fatalities were prompted, at least in part, by aggressive driving behavior. If you begin to feel upset and suspect you are beginning to experience road rage, do what you can to calm your emotions. Hopefully, a crash can be avoided. When collisions occur, talk to a Long Island personal injury lawyer about compensation options.
Behaviors that Could Indicate Another Driver is Experiencing Road Rage
One of the precautions you can take when driving is to avoid drivers who are driving aggressively. Also, be sure not to participate in aggressive driving behaviors yourself. Some indicators of road rage include the following:
Tailgating or driving too close to other vehicles
Ignoring signals and signs
Making sudden lane changes
Racing or speeding around other cars
Exhibiting rude gestures or screaming obscenities
Using the bright feature of headlights inappropriately
Ignoring bad weather conditions
Driving on shoulder, sidewalk, or median
Severe car crashes can happen in an instant. Calm driving is essential. If you regularly feel rushed and stressed, try to adjust your schedule for a safer ride. Leave earlier for work and appointments so you won't feel rushed, for instance. Also, if there is unexpected traffic congestion, accept that it is not in your control. Even when traffic is moving slowly, it is moving, and the clogged area will eventually subside.
If Needed, Call Law Enforcement
There are laws in place to protect individuals in public spaces. Do not engage with an aggressive driver; doing so can escalate the incident. If you need support, pull over in an area that is public and well lit. Calling the police could be necessary if you feel you are in danger or being threatened.
Aggressive insults and raging drivers can lead to physical injuries. If you were involved in an aggressive driving accident in Brooklyn, Stewart Manor, or Bayside, discuss the details of your road rage driver experience with a Long Island personal injury lawyer. An experienced attorney knows how to protect your rights.
Are you dealing with property damage and personal injury because of another's road rage or other aggressive driving behaviors? You need a personal injury lawyer working for you to determine a path forward. Together, we can assess your expenses and develop a strategy to secure your best compensation option. With over 30 years of legal experience, our legal team represents clients throughout Long Island and the five boroughs of New York City. Don't delay, contact Giuffré Law Offices at 516-802-9912 to discuss your case today.