A Variety Of Activities Lead To Whiplash Injuries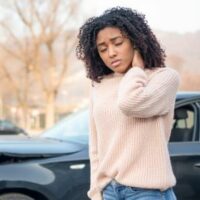 If you have seen a character in a movie or on television fake a whiplash injury to try and get a large settlement, you are not alone. But whiplash injuries can be extremely painful. It is not true that people simply put on a neck brace and pretend to be suffering. When a person is suffering from a car accident injury, they may not live their life in the same manner they did before the collision. Their quality of life may be reduced, and it may be difficult or impossible for a person to work.
Long Island car accidents can lead to painful injuries and high expenses. Connect with a Long Island personal injury lawyer if you or someone you care about was injured in a Brooklyn, Bayside, or Stewart Manor accident. After a motorcycle crash, car collision, or truck accident, compensation is likely necessary to cope with high expenses and loss of income.
Whiplash Can Be the Result of Sudden, Unexpected Body Moves
One of the many dangers of a crash is when a person's body is twisted, turned, or moved in an unnatural way. This can happen abruptly and lead to neck, back, shoulder, and head injuries. Whiplash is not the diagnosis but a term to describe a range of injuries. The diagnosis could be a soft tissue injury or hyperextension of an area.
Any or all of the following accidents can lead to whiplash injuries:
Bike and pedestrian accidents
Car and motorcycle crashes
Injuries connected to sports
Slip and fall events
Injuries on roller coasters and other rides
Boating accidents and water injuries
To obtain a full and fair settlement, documentation and evidence are needed.
Let Your Experienced Attorney Secure Evidence
It can be confusing and challenging to know what evidence is needed to strengthen your personal injury claim. When you connect with a Long Island personal injury lawyer, they can let you know what is needed and secure those items for you, from witness statements to video footage. Likely your medical record will be one of the many types of documentation involved, be sure you seek medical attention after an accident and follow the doctor's treatment plan. The clarity in your treatment will not allow an insurance company an opportunity to poke holes in your need for compensation.
Keeping notes about the accident and your recovery can be helpful. For instance, if you cannot work because of pain, document the pain experienced, the date, and the wages you lost due to the accident injury.
Are you recovering from a neck injury because your car was rear-ended on a Long Island roadway? You need a personal injury lawyer working for you to determine a path forward. Together, we can assess your expenses and develop a strategy to secure your best compensation option. With over 30 years of legal experience, our legal team represents clients throughout Long Island and the five boroughs of New York City. Don't delay, contact Giuffré Law Offices at 516-802-9912 to discuss your case today.