Accidents Are Possible Within Your Own Neighborhood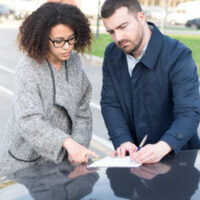 It is common for individuals to be involved in car accidents close to home. In fact, according to one study, it is more likely to be in a car crash within a five minute drive of your primary residence than far from home on a road trip or a far off highway, even though many think of accidents happening far from where they live.
One reason for accidents within a person's neighborhood is that they become so familiar with the area they are not as careful as they are in unfamiliar areas. If you were injured near your home in Brooklyn, Stewart Manor, or Bayside, talk to a Long Island car accident lawyer about compensation options.
Familiarity of Running Errands and Work Commutes
Because people are comfortable in their neighborhoods, they often run errands and commute to and from work without paying close attention to details. Daily tasks feel so familiar, individuals may believe they can still perform them safely when they are tired or distracted. But when a person does not have their full focus on driving or when they are experiencing fatigue, there can be collisions.
Of course, digital devices are a tempting distraction as well. A person may begin a conversation in their home and continue it when they are in their car, trying to get one last work task done while they are driving to the grocery store, for example.
Patience and Focus
Understanding that patience and focus is always necessary for safe driving, people can make an effort to drive carefully wherever they are, far from home or within their neighborhood. Always slowdown in bad weather and take notice of bicyclists and pedestrians.
Close to home dangers to keep in mind:
When moving out of a garage or parking spot, check all mirrors and blind spots to be sure there is not another vehicle or person in your driving path.
Red lights and stop signs mean drivers must come to a full stop, no rolling stops or ignoring signage because the intersection is often clear.
When mobile devices are tempting, do what you can to avoid the temptation, from silencing alerts to turning off devices when driving.
If you have taken precautions but still find yourself in a car accident, connect with a Long Island car accident lawyer to secure damage compensation. Skilled attorneys know how to strengthen your claim through documentation. Plus, they can process all of the paperwork needed to keep your claim or case on track. Injured individuals can then focus on the process of healing while a legal professional navigates negotiations, including litigation when needed.
Were you hurt in a car accident in your Long Island neighborhood? You need a personal injury lawyer working for you. Together, we can assess your expenses and develop a strategy to secure your best compensation option. With over 30 years of legal experience, our legal team represents clients throughout Long Island and the five boroughs of New York City. Don't delay, contact Giuffré Law Offices at 516-802-9912 to discuss your case today.