Accidents And A Post-Concussion Syndrome Diagnosis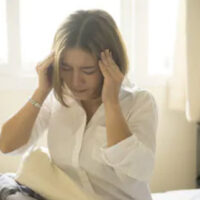 When you suffer a blow or strike to your head, a concussion is possible. This could happen during a car accident, either through the whiplash motion of impact or a direct blow to the head against a hard surface. Post-concussion syndrome is when someone experiences symptoms past a normal recovery time frame. If you have had headaches or dizziness for longer than two weeks or so, post-concussion syndrome could be present.
Cognitive, physical, and emotional issues are all possible when an individual is suffering from post-concussion syndrome. After a New York car or truck accident, talk to a Long Island personal injury lawyer about your treatment plan. Head injuries can lead to lifelong issues. Damage recovery is possible when another was reckless.
Head Injuries and Concussions
A concussion can occur with or without a person losing consciousness and sometimes symptoms of a concussion are slow to appear. Seek medical attention after a car accident to be sure you are ok, and follow any treatment plan provided.
Concussion symptoms could include one or more of the following.
Fatigue and dizziness
Memory loss and confusion
Ear ringing
Sensitivity to light and noise
Sleep issues and drowsiness
Anxiety and irritability
Stomach issues, nausea, or vomiting
Headaches and vision issues
In many instances, concussion symptoms will subside in two weeks or a month. Often it is advised that a sufferer rest and avoid screens, allowing their brain to heal. If symptoms continue, a medical professional may diagnose the individual with post-concussion syndrome. In extreme cases, symptoms can last years or be lifelong.
Car accident victims suffer lasting concussion symptoms in between 5% to 30% of head injury instances. This is a high percentage, but it is also important to note that some individuals are more prone, such as individuals who have previously sustained a head injury or an older adult with other health issues.
Talk to a Long Island Car Accident Lawyer
It is important you connect with a legal professional who understands your rights following a New York car accident. When head injuries occur, recovery timeframes depend on the situation and past health history. Some can rest and recover in a week, others find themselves unable to return to the daily life they enjoyed prior to the collision because of cognitive and emotional changes due to the accident.
A Long Island personal injury lawyer can help you if you were injured in a car collision, slip and fall accidents, or other event caused by another's negligence. Damage compensation is possible, for injuries that are minor and severe.
Are you recovering from a post-concussion syndrome diagnosis due to another's negligence? You need a personal injury lawyer working for you to determine a path forward. Together, we can assess your expenses and develop a strategy to secure your best compensation option. With over 30 years of legal experience, our legal team represents clients throughout Long Island and the five boroughs of New York City. Don't delay, contact Giuffré Law Offices at 516-802-9912 to discuss your case today.