New York Golf Cart Claims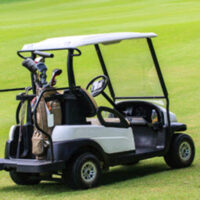 Many people find a day on the golf course to be a relaxing and enjoyable way to spend time. But there are times when a friendly game goes wrong, particularly if there is a golf cart accident. There can be severe injuries when a golf cart loses control, particularly if a person is pinned, hit, or run over.
If you have questions about liability and damages following a golf cart accident, talking to a legal professional is advised. While passenger vehicles have a wide range of safety features, golf carts maneuver with individuals quickly jumping off and on. Injuries can be life-long and severe. After a New York golf cart injury, discuss the details of your injuries with a Long Island personal injury lawyer.
From Cart-to-Cart Collisions to Rollovers
Even though golf carts are operated at much slower speeds and much smaller than cars, accidents and injuries can happen.
Some different types of golf cart accidents:
Cart-to-cart crashes
More than two carts hit one another in a multi-cart collision
Cart is unbalanced and does a rollover or tip-over
Operator loses control and drives into water
Cart strikes object or structure
Pedestrians or bicyclists hit or are hit by a cart
Driver under the influence of drugs or alcohol
Bad weather creates hazards and leads to loss of control
Overcrowded areas lead to impact
Just as car drivers need to pay attention to the road, cart operators need to avoid quick turns, drive at a manageable speed, and take other safety precautions.
Liability and At-Fault Cart Operators
When you move forward with a claim, negligence will be determined. Through an investigation process, the details of your claim can be assessed. This could include talking to witnesses and gathering documentation about the event. A Long Island personal injury lawyer will do this for you as they know what is needed to strengthen your claim.
Fault depends on a variety of factors. There could have been a design fault in the cart itself. In other situations there was an at-fault operator who was driving the vehicle recklessly. Injuries can lead to doctor fees, scarring, physical therapy, and emotional distress, along with pain and suffering. There are paths to damage recovery when another person or party was negligent.
While a financial award can alleviate fiscal stress, there are times when victims feel injuries can't be soothed by monetary awards. It is important to remember what a fiscal settlement can do for you, including allowing you to have the best care possible moving forward. So your life can improve in happiness and fulfillment, too.
Were you injured in a golf cart collision? You need a personal injury lawyer working for you to determine a path forward. Together, we can assess your expenses and develop a strategy to secure your best compensation option. With over 30 years of legal experience, our legal team represents clients throughout Long Island and the five boroughs of New York City. Don't delay, contact Giuffré Law Offices at 516-802-9912 to discuss your case today.