Rain And Wet Roads Create Risks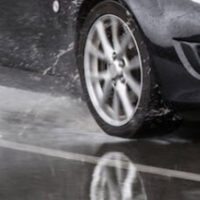 When you live on Long Island, you know there are many beautiful, sun-filled days to be out and about. Many enjoy rainy days too, either for long walks with umbrellas or staying inside and watching a storm from the safety of your own home. But if you have somewhere to go that requires car travel, it is important to be aware of the risks of wet roads. It is estimated a quarter of car accidents are connected to weather conditions, at least in part.
Losing control of an automobile is possible when roads are slick. If you were injured in an accident when weather conditions were poor, talk to a Long Island personal injury lawyer about damage recovery. Drivers need to operate their vehicles safely, no matter the weather conditions. Proving negligence is part of the personal injury claim process.
Wet Pavement and Hydroplaning
Hydroplaning is when the tires of a car or truck are unable to secure traction on a surface because there is a layer of water. Sometimes called aquaplaning, hydroplaning can result in a car running into another vehicle or going off the road because the driver is unable to stop the car.
A few ways to reduce hydroplaning risks:
Avoid braking aggressively. If aquaplaning occurs, do not slam on your brakes.
Allow the car to coast. Remain calm and remove food from the gas pedal, coast until you can get control of the vehicle.
Speed reduction. Posted speed limits are for optimal conditions, poor weather often requires driving at a slower speed.
Tire inflation. Maintenance is a way to reduce the possibility of hydroplaning at all and keep tires at optimal pressure for safe driving.
Paying Attention to Weather Reports
When extreme weather is predicted, such as hurricanes, it is common for people to pay attention to weather alerts and follow guidance about reducing travel. But when storms are not as extreme, alerts may be ignored. Slippery surfaces can lead to accidents and life-changing injuries.
If a storm is coming and a travel risk has been announced, reschedule your plans if possible.  When you must travel, reduce your speed so you can react to any road condition changes. And be sure to give other vehicles plenty of space as their reaction time may be impacted by the weather.
Connect with a Long Island personal injury lawyer if you were in a collision with a hydroplaning car or were hurt in any type of weather-related crash. When medical bills and emotional distress are high, an experienced lawyer can pave the way to resolution.
Were you involved in a weather-related car wreck that led to pain and suffering? You need a personal injury lawyer working for you to determine a path forward. Together, we can assess your expenses and develop a strategy to secure your best compensation option. With over 30 years of legal experience, our legal team represents clients throughout Long Island and the five boroughs of New York City. Don't delay, contact Giuffré Law Offices at 516-802-9912 to discuss your case today.