Damage Recovery For Long Island Pedestrian Accidents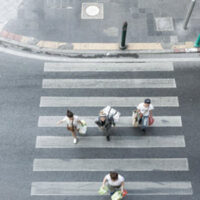 There are many charming, walkable areas of Long Island, and it is common for residents of Bayside, Brooklyn, or Stewart Manor to walk to daily errands or to stroll as a form of recreation with friends and family. And although walking can be an enjoyable form of transportation, it is not completely without risk. When pedestrians are struck by traffic, injuries can be severe and life threatening.
According to the National Highway Traffic Safety Administration approximately 76,000 pedestrians are injured in car collisions every year. If you need support to secure damage recovery after a New York accident, talk to a Long Island personal injury lawyer. Financial hardship is possible when struggling with medical expenses.
Urgent Care and Emergency Room Visits
Emergency and urgent care services are essential when a person is ill or injured and in need of immediate care. But it is common for not all of the fees from these services to be covered by a person's individual health coverage. Or maybe your insurance plan has a deductible that is high, beyond what you can afford. If you are facing high medical bills after a Long Island pedestrian accident, it could be causing you financial distress.
Some of the medical expenses that create worry following an accident:
Bills for urgent care center services
Expenses connected to medical tests or surgeries
Fees for emergency room visits
Cost of medications, including medications and over-the-counter drugs
Plus, on top of the expenses related to your injury, you may not be able to work until you are healed. For example, if you have a physical job and your back is hurt, you may have to take time off until you are strong enough to perform your job duties. If this is true for you, it is possible you are coping with high expenses and income loss.
Discuss Your Options with an Experienced NY Attorney
To understand the true value of your claim, discuss the details of your experience with a skilled Long Island personal injury lawyer. An attorney can also help you strengthen your claim by accessing the evidence necessary to convince an insurance claims adjuster you will require an amount higher than their initial offer. If an insurance company has not made an offer at all, your attorney can send them a demand letter informing them of the need for damage recovery.
Drivers have a responsibility to be aware of pedestrians and safely share the roads with others. If you were hurt while walking or jogging, there is help available.
Are you not sure what to do now that you are receiving medical bills due to injuries sustained when struck by a vehicle? You need a personal injury lawyer working for you to determine a path forward. Together, we can assess your expenses and develop a strategy to secure your best compensation option. With over 30 years of legal experience, our legal team represents clients throughout Long Island and the five boroughs of New York City. Don't delay, contact Giuffré Law Offices at 516-802-9912 to discuss your case today.