Be Aware Of Nursing Home Nourishment Risks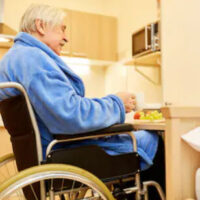 When a person is not eating enough or the food they are eating is not high quality, malnutrition is possible. Then, physical and mental problems can arise. Not getting enough nutrients can weaken an immune system and decline in agility and balance, for example. If you have a loved one living in a nursing home, it is important to be aware of the care they are receiving. They need quality food and hydration to stay as healthy as possible.
If you have a loved one who has been mistreated in a New York nursing home or assisted living facility, talk to a Long Island nursing home negligence lawyer. With evidence and documentation of abuse or neglect, legal action is possible.
Indicators or Nourishment Concerns
Being aware of signs of malnutrition can help you stop problems before they deteriorate. Malnutrition can lead to serious health issues; ingesting a proper amount of nutrients, calories, and protein is essential. If you notice any of the following issues, connect with the facility staff and voice your concerns.
Rapid weight loss
Dry skin and hair
Lack of focus
Fatigue and irritability
Hollow cheeks or sunken eyes
Depression or low mood
Muscle loss
Lack of interest in activities
Being cold or feeling chilled
Wounds are slow to heal
Not everyone malnourished loses weight, and it is possible to be overweight and not receive the necessary nutrients for good health. This can be true when a person is consuming foods high in calories but low on nutritional value, for instance.
Individuals living in nursing home facilities and assisted living homes may already be vulnerable to illness; in order for the body to fight off illness, a person needs to be consuming nutrient-rich foods.
Food Issues Could be Connected to Staffing Problems
Sometimes, nursing home neglect occurs due to understaffing. If there are not enough employees to properly care for the number of individuals living in the facility, people may not be getting enough to eat or drink. In other situations, the food offered is low quality, maybe trying to save money for additional staff.
When nursing home abuse or neglect occurs, you need to take action. Discussing your issue with the facility itself could be the first step. But if you are not getting the results you feel you deserve, talk to a Long Island nursing home negligence lawyer. Holding a facility accountable can be challenging, but legal action may help. There may be a clear path to compensation, particularly if you have documentation of neglect over a period of time. Evidence accumulation is possible when you connect with a skilled attorney.
Are you concerned that your loved one who is living in a Long Island nursing home is malnourished? With over 30 years of legal experience, our legal team can fight for your family's rights. We represent clients throughout Long Island and the five boroughs of New York City. Don't delay, contact Giuffré Law Offices at 516-802-9912 to discuss your case.