Distracted Walking Can Lead To Injuries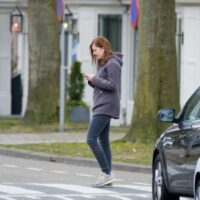 It is well known that there are dangers when individuals text while driving. After all, there are public service announcements and billboards that remind you that taking your attention off the road to look at your phone while operating a vehicle creates the possibility of accidents, injuries, and fatalities. But many do not consider the impact of looking at a phone while walking. Anytime you are in traffic situations and paying attention to a screen rather than your environment, there is the possibility of injury.
If you were injured because you failed to see a car as you were crossing the street, talk to a Long Island personal injury lawyer about the possibility of a compensation package. While you, as the pedestrian, should have been paying attention, it is also possible the driver carries fault if they did not follow traffic signs. Stopping at a stop sign or stop light, for example.
Things to Be Aware of While Walking
When there is a beautiful Long Island day, it makes sense you would want to get out and stroll in your neighborhood or go on a nature hike. This is healthy behavior, simply stay aware of your surroundings when you navigate crosswalks and roads.
Don't assume a vehicle sees you. Even when one vehicle stops, there may be another behind that one that does not see you. Be on the lookout for moving vehicles.
Listen to music at a low level. When wearing earbuds or headphones, do not have the sound of your music so high that you are unable to hear surrounding noises.
Keep moving when in the street. Stay within the crosswalk when crossing a road and do not stop. Also, do not jaywalk, cross where the traffic expects pedestrians, such as crosswalks.
Wear visible clothing. Wear light, reflective clothing, particularly when walking at night or on dark days.
Also, remember that car collisions are not the only risk to pedestrians. There are times when people are hurt when they trip and fall on an uneven surface, such as a broken sidewalk or driveway. Slips and falls can lead to concussions, fractures, scrapes, and more.
Anytime you are using the streets or roads of Long Island, there is the possibility of an accident. Stay alert to stay safe. Worrying constantly isn't the solution, simply be aware of your surroundings so you can react in time to avoid injury. This means paying attention to the task at hand, driving or walking, rather than looking at the screen of your phone.
Talk to a Long Island Lawyer After a Pedestrian Accident
If you were injured in an accident, as a pedestrian, driver, or bicyclist, talk to a Long Island personal injury lawyer. Damage compensation could be possible.
Did you sustain injuries in a Long Island pedestrian accident? You need a personal injury lawyer working for you. Together, we can assess your expenses and develop a strategy to secure your best compensation option. With over 30 years of legal experience, our legal team represents clients throughout Long Island and the five boroughs of New York City. Don't delay, contact Giuffré Law Offices at 516-802-9912 to discuss your case today.